When it comes to home improvement, nothing makes an organizational enthusiast excited like a newly installed closet! But, the question most people ask is to go DIY or custom? There are pros and cons to both and people pick both for a variety of different reasons.
The DIY Experience
Walking into a store, like a big box store, you are surrounded by many different products that it gets overwhelming. Large hardware stores may often have a lack of communication due to the high volume of shoppers. These types of stores have off the shelf remedies, that may seem promising and all you need for your organizational quick fix, but the headache is lurking in the box. Many off the shelf systems may have missing parts, mislabeled parts, or even parts missing. And not to mention the installation is all on you.
Other DIY options from other retailers vary in customer service, some having amazing service and others are lacking, but the product tends to be the same. These stores cannot guarantee your closet system arrives free of scratches and other imperfections.  Some of these large chain organizational and home stores offer installation, but again the product itself may not be perfect.
The Custom Closet Experience
If you are longing for a closet that is custom, with well-fitting cabinets and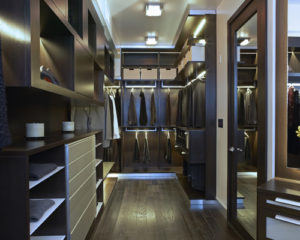 quality construction, you will want to work with a professional closet design company. With this experience, customer service is the biggest priority, you would be working with an experienced and knowledgeable closet designer and typically there is a showroom for you to visit. The level of customization and craftsmanship is unbeatable with a custom closet company. Your designer will personally come to your home, take measurements, and design the perfect closet for you. Another perk of a professional closet company is a professional installation team that are knowledgeable and do the job right the first time.
With both options of going DIY or custom, there will be pros and cons such as price and quality. There are so many factors and it's important before you make a decision on which path to take, do your research.