Get A Red Carpet Ready Laundry Room!
The laundry room takes a lot, it cleans an entire household of clothes, it's pet storage, it's where clothes are dried and hung and it can be much more from home to home.
With all the use the laundry room endures, it deserves some attention to detail from time to time. Since laundry room size varies drastically it may sometimes be difficult to make major changes to the space, but there are plenty of ways to increase storage and design in both large and small spaces.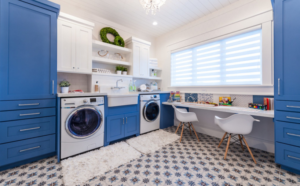 Bold and Bright Cabinetry
One amazing way to make laundry a little less drab is installing brightly colored cabinetry. One of the best aspects of a laundry room is it does not have to "match" the rest of the home. Since it's such a personal space, and house company typically will not be meandering into the laundry room, go crazy with the cabinetry. Get the royal blue cabinetry you've always wanted. If a ton of bright cabinetry is not your style, install some accent cabinets paired with neutral cabinets for a bright look but not an overload on the eyes.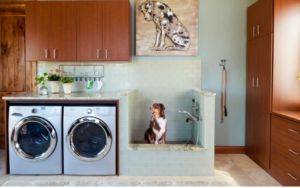 Built in Accessories
It seems like what makes a room fun is the hidden gems within it. There are many fun extras to add to a laundry room such as pet accessories! Dogs are part of the family and if space allows, why not add a built-in dog shower or built in eating and water bowls for the pups! Another accessory that may be overlooked is installing drying racks for the delicate clothing that must be hung up. Lastly, if making the laundry room dual purpose is the goal, installing a bench with hooks and cubbies make for the perfect "mudroom" area.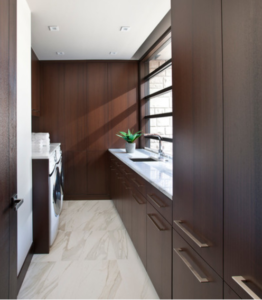 Go Contemporary
Any size laundry room can be impeccably organized and going entirely contemporary with cabinetry and finishes will make it feel less like a laundry room. The beautiful stream line style gives the space the look of a pantry rather than a high traffic work area. For a big impact of contemporary chic, sapele ribbon cabinet doors are very sleek and can store anything from large laundry baskets to a built-in ironing board. A way to keep the laundry room looking sleek and contemporary is by concealing the washer and dryer within cabinetry.
Make it Clean
In efforts to keep the land of cleaning organized and tidy, adding an island to the mix provides more counter space for folding and more storage. Another important feature of a laundry room is a large sink. It will surely come in handy and a farm sink just looks gorgeous! Lastly, if you are tight on space, adding beautiful metallic racks between the washer and dryer with a couple baskets to hide the clutter would work wonders. To dress up the racks, consider a rose gold finish and add some accessories for a stylish look.