The Picture Perfect Pantry
When planning for a new kitchen the hopes of a perfectly organized pantry is high on the priority list.
There are endless options for inserts and other organizational tools to gain the most amount of storage space in a pantry, but which what makes the difference between a pantry that looks organized versus one that is actually functional?
Most often than not, the reality is the pantry will become a scavenger hunt for your most used items. Some of the advertised organizational items sold in stores, promise to keep everything organized and accessible, but falls short. From users, consumers, and design experts, here are some of the BEST advice to keep a clean and tidy pantry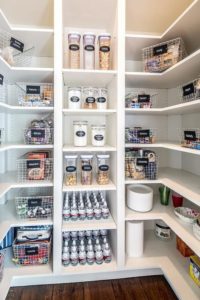 Step One: Install a spice shelf
Pull out pantries and spice pull out are great, but if you are a seasoned spice user in the kitchen, small items like these can get lost. The best item to buy and install is a door-mounted spice shelf. It's a great solution to keep the most used spices in an area where they are seen and convenient to get to.
Step Two: Keep go-to items at eye level
Keep the staple items like cereal, pasta, snacks at eye level. If you have kids, keep their favorite snacks at their height for easy access.
Step Three: Optimize containers
One of the biggest lessons in pantry learned very quickly is the unnecessary amount of containers for almost every item. The best food items to put in air tight containers are baking ingredients like flour and sugar.
Step Four: Invest in labels
Do not make the mistake when you go for the baking ingredients in the canister using too much sugar instead of flour! Invest in labels for those air- tight containers. It may be time consuming based on the amount of containers, but worth it.
Step Five: Use baskets for round items
Round items such as onions and potatoes can be stored in wicker baskets at the bottom of the pantry will eliminate clutter on the counter and fridge.
Step Six: Awkward shaped items down low
Items like potato chips, oddly shaped bags and extra ketchup bottles belong towards to bottom of the pantry to prevent mess from an exploding chip bag and store extra items.
For more information, click here