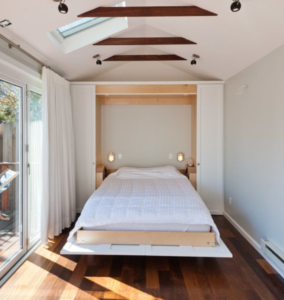 At McCabinet, we do a lot of different projects, usually kitchens, closets and laundry rooms. Those rooms just seem to be the usual, but sometimes we get a boom of an unusual installment. Lately, murphy beds are the unique item homeowners want to add to their spaces. Many homeowners are deciding to add a murphy bed to a home office to double as a guest bedroom. They are great solutions to make a space versatile and especially a great way to have a guest bedroom without having a "guest bed room
What is a Murphy Bed?
Basically, it is a bed that is on hinges and can be stored vertically or horizontally in a wall unit. It is a great alternative to a full guest bedroom, and still allows you to have guests without the commitment of using up an entire room as it folds up to allow to use the room for other purposes. Other common names for a murphy bed are pull-down beds, wall beds or fold-down beds.
Where did it's name come from?
Like any great inventor, the father of the popular wall bed, William L. Murphy named his invention after himself. The creation of this space saving marvel has quite the romantic origin. In the 19th century, William Murphy lived in a one-room apartment in San Francisco and wanted to court a young opera singer. But the norms of the time did not allow women to see inside a man's bedroom if not married to him. Murphy did not want to loose his chance at love, so he created the murphy bed to stow his bed in the closet in order to make his one-room apartment into a proper parlor.
Are they comfortable?
The age old question from anyone who has had to sleep on a pull out sofa bed, are wall beds comfortable? And the answer is yes! They are very comfortable because unlike a very uncomfortable sofa bed, you get to choose the mattress and the size of the mattress!
Easy to use?
This depends on the hardware used to pull down the bed. McCabinet uses a special mechanism with a hydroponic piston that will seamlessly pull down the bed and safety on top it's stand. Not all wall bed hardware is created equally. Some may spring back up because it is too tight and others may be terrible to put back into place because it is too loose.
Where do they go?
This depends on your space. If you have a sprawling single family home, but still do not want a designated guest room, installing a murphy bed in an office, library or even a separate living room space are the perfect spaces for a guest "bedroom".
Vertical or Horizontal Tilt?
Now that you have some background on the infamous bed in a wall, which will you choose? A standard vertical pull out bed or a horizontal tilt? In my opinion, a side tilt works best for a twin bed and a larger bed with the standard vertical style.
To get a quote on murphy beds, please click here