Are you tired of the clutter that has built up at the bottom of your closet? Does your partner have way too many pairs of shoes leaving limited to no storage? Trick question, one can never have too many footwear options and yes, you need more storage. Shoe storage is a very important aspect of any closet, especially for a footwear enthusiast! Our proven process ensures that your closet becomes a functional piece of art.
First, your expert closet designer will take inventory of your closet. This is a crucial part of the designing process because it is the difference between a functional closet and a nonfunctional one, especially for shoe storage. The number of shoes will determine how much shoe shelving is needed.
On average, men need 21 inches for 2 pairs, 30 inches for 3 pairs and a whopping 39 inches for just 4 pairs of shoes. That is practically his whole collection! Women on the other hand, can squeeze more shoes per inch with 3 pairs in 21 inches, 4 pairs in 30 inches and 5 pairs in 39 inches.
After inventory has been taken and you have purged your closet of items you no longer use or like, it is time to measure for the height of your closet. For footwear storage, the height of the shelves is critical, because shoes also have different heights, such as winter boots.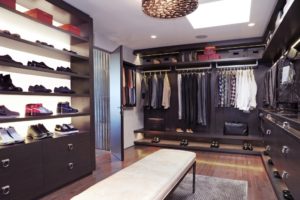 Now that the shelf height has been determined, it is your decision if you would like the shelves to be slanted. By slanting shoe shelving, it allows you to better display your shoe collection. If you decide to slant the shelves, picking out shoe fences is next. Shoe fences are the railing that go on the tip of the shelf to avoid shoes from sliding off the shelf.
Finally, for a unique look, add lighting under the shoe shelves to illuminate your shoes or add glass doors to protect your beloved fashion accessory, your shoes.