Years ago, each area of the home had its own room. The kitchen was closed off from the dining area, the living room was secluded, but now the living style is almost like a loft minus the open bedrooms. The way we live has become very multipurpose, not only is the kitchen a place to prepare a meal, but it is also where we eat, work, and within steps watch a movie. The possibilities are endless for making any room multipurpose, even unexpected rooms like the laundry room and pantry! These once back of mind spaces are getting a major upgrade. 
The pantry, a small room or closet off the kitchen that houses food items and maybe a cookie sheet or two. Not anymore, the pantry has gotten a major multipurpose upgrade in recent years going from food storage to practically a small kitchen. Today's pantries feature a small sink, cabinets and counter space, coffee bars, you name it! Pantries have replaced the traditional china cabinet by allocating space for dining ware that is not typically used daily. Now, let's talk about how food is stored in the modern-day pantry, everything is either labeled or in a jar or basket. Pantries have morphed into an organized, stylish and very efficient "room" in the home.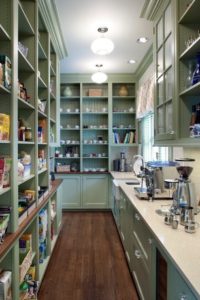 This room has become much more than just a household chore, the laundry room is one of the most multi-functional rooms in a home. The laundry room has transformed into a stylish space full of storage for everyday tasks. A mudroom is the perfect and most seamless transition to add to a laundry room. A mudroom and laundry room are often off the garage or the point of entry into a home making it a great drop off area for kid's sports equipment, backpacks, etc. An increasingly popular trend is incorporating pets in areas of the home. The laundry room is the ideal area to store everything for a pet from beds, food, and even a pet bathing area! Lastly, not only could a laundry room be used for a ton of extra storage, it can be used for other multipurpose areas such a craft room or wrapping station.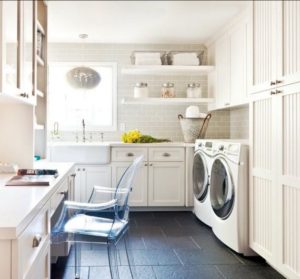 The possibilities seem endless for these once never thought about spaces. These spaces are just as important as the rest of the home in terms of style and functionality. The best characteristic of pantries and laundry rooms as they become larger rooms in the home, each homeowner has more opportunity to personalize the functions of these once never thought about spaces.